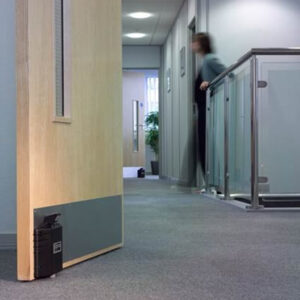 Designed for holding fire doors open legally, the Dorgard Fire Door Holder allows a fire door that is fitted with a closer to be held open, but also ensure that it closes in the event of the fire alarm sounding – as is required by law. The Dorgard is constantly listening out for the sound of the fire alarm and shall release its hold on the door when the fire alarms sounds. This allows the closer to function correctly and ensure the fire door provides compartmentation of the building. Holding doors open during the summer months is particularly important as offices can often get hot and stuffy.
Occasionally, customers ask for more details with regards to the installation of Dorgard. To aid with installations, setting and maintenance, we have now launched a new sub-portal dedicated to Dorgard Fire Door Holders, as well as creating a number of video tutorials to assist with the installation process.
We are always available to answer customer calls and questions by telephone, email or online chat.