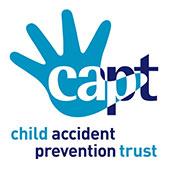 This month CAPT (Child Accident Prevention Trust) are raising awareness about carbon monoxide (CO) poisoning. CO, a gas that you can not see, smell or taste, can kill and is dubbed the 'silent killer'.
Safelincs support CAPT in the great work that they do and we are pleased to announce the most recent donation of £554 this quarter. "This is another fantastic result and your generosity is much appreciated by all of us at the charity", said Katrina Phillips, Chief Executive of the Child Accident Prevention Trust.
To protect your family and help raise funds for CAPT, purchase a FireAngel CO-9X or a CO-9D. A carbon monoxide alarm is the only way to detect CO, giving you the ability to leave your home and call for help. It could save your life.