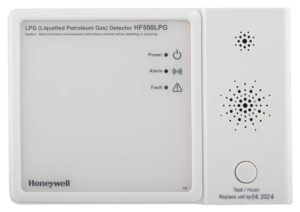 LPG (Liquefied Petroleum Gas) is a commonly used source of fuel in a caravan for appliances such as cookers, heaters, and fridges. Faulty appliances, extinguished pilot lights and accidentally leaving the gas on, can create a potentially explosive build-up of gas within the close quarters of your caravan.
Honeywell, a market leader in home safety products, offers a solution to keep you and your family safe when on holiday in your caravan. The HF500LPG alarm will detect and alert you to the presence of LPG gas, detecting levels as low as one-tenth of the lower explosive limit and giving you plenty of time to turn off the gas, ventilate your caravan, and fix the problem.
LPG gas is mixed with an odorous substance to make it easily detectable to the average person by smell. However, some people have an impaired sense of smell, and as we grow older, our sense of smell deteriorates. Conditions such as dementia may also affect the detection of this gas. If the gas leak were to occur during the night, it might go undetected for some time, allowing a dangerous build-up to occur without detection. For peace of mind, the HF500LPG alarm is hard-wired into a 240-volt mains supply, common in most modern caravans and also in mobile caravans via electrical hook-up. The HF500LPG alarm has a loud 85dB siren that will ensure the whole family is alerted any time a leak is detected. This alarm is suitable for installation in static caravans, mobile caravans with hook up and your home.
The Honeywell HF500LPG alarm should be installed by a qualified person, such as an electrician. For those who want the ultimate safety, Honeywell also offers a solenoid valve that links to your LPG alarm and will cut off the gas at the bottle upon detection of a leak.
For further help and advice on detecting LPG gas in your caravan or mobile home, please call 0800 612 6537.