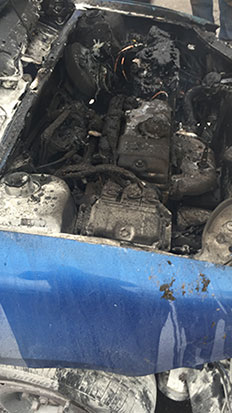 Businesses often think that a fire won't happen to them. A Lincolnshire based garage, however, had taken prudent precautions and had asked Safelincs to install powder fire extinguishers in its workshop. These suddenly became very important when a vehicle that was being worked on suddenly started to smoke and the engine caught fire.
The fast thinking of the mechanics ensured that the fire was quickly and efficiently extinguished, preventing excessive damage to the vehicle and also to their premises. To ensure the garage was seamlessly protected Safelincs instantly replaced the extinguishers used to fight the engine fire free of charge. Safelincs replaces any fire safety equipment damaged or used in a fire for free as part of its commitment to protect its customers.
A rapid recovery after a fire is essential for customers and having new fire fighting equipment in place straight after the fire is part of a larger picture. Using fire extinguishers which cause a minimum of clean-up after the fire is extinguished also helps to recover quickly from a fire. Safelincs can advise customers on the best extinguisher options in each industry, drawing from a huge range of extinguishers and years of experience. We offer traditional fire fighting extinguishers as well as clean ranges that hardly leave any residue, for example water mist extinguishers, suitable for a large area of applications.
Businesses should ensure that they have completed a risk assessment to identify the fire risks associated with their business and install the appropriate fire detection and fire fire fighting equipment based on these findings.  Carrying out a fire risk assessment is a legal requirement for businesses.
For more information about our services call 0800 612 6537 or email support@safelincs.co.uk.