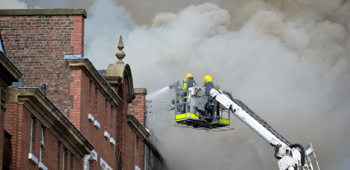 Over 7000 emergencies attended by the fire brigade during 2013/14 were classified as chimney fires in the annual fire statistics report. Poor chimney maintenance is a known cause of domestic fires, most chimney fires are preventable.
Chimney Fire Safety Week 2015 takes place from the 7th until the 13th of September this year. The event is intended to highlight the causes of chimney fires and emphasise how to prevent a chimney fire from occurring in the first place. The most common causes of chimney fires are inappropriately sized or poorly installed appliances, blocked chimneys from soot or bird nests and the burning of unseasoned or wet wood.
The best way to protect your home is to have your chimney swept regularly. The Guild of Master Chimney Sweeps recommends that people burning wood or coal on a regular basis should have their chimney swept quarterly, whereas those burning smokeless fuel, oil or gas should aim to have their chimneys swept at least once a year.
Infrequent sweeping of your chimney significantly increases the risk of a fire, and the consequences can be devastating and costly. Even a successfully extinguished chimney fire creates a great deal of mess and is a traumatic experience.
Whilst having your chimney swept regularly will greatly reduce the risk of fire, it is still important to have a means of alerting your family in case fire strikes. Chimney fires are often reported as creating a disconcerting low rumbling noise accompanied by cracking and popping from within the chimney. If you are awake, these signs are often enough to alert you to the problem, but if you are asleep, your family are much more vulnerable.
An interconnected system of smoke alarms will quickly detect any smoke released as a result of the chimney fire and raise the alarm across your entire household. Speed of detection is key, as a swift escape and notification of the fire brigade will greatly reduce the danger to your family and damage to your property.
Your regular chimney maintenance and smoke detection system should also be supplemented by a carbon monoxide detector. Poisonous carbon monoxide (CO) is created by the incomplete combustion of fuels such as wood, coal & oil. If working properly, your chimney will draw the carbon monoxide away with the smoke. However, if your chimney is partially blocked, carbon monoxide can seep out into your home rather than being drawn away. Carbon monoxide cannot be tasted or smelled and has dangerous health implications, leading to many deaths every year in the UK.
A house fire as a consequence of a poorly maintained chimney is a terrible thought, and should be enough to motivate anyone to take steps to protect their home from the risk. Having your chimney swept regularly, ensuring your smoke alarm system is in good order, and installing a carbon monoxide detector will ensure that you are giving your family the best possible chance of avoiding the dangers and trauma of a chimney fire.
For further information contact our customer support team via support@safelincs.co.uk