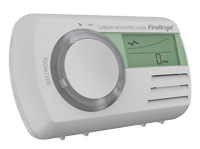 Good Morning Britain spoke to Nadine Coyle, Girls Aloud singer, about her experience with carbon monoxide poisoning in a bid to raise awareness about this silent killer, which claims over 40 lives a year.
Nadine and her family were suffering from exposure to high levels of carbon monoxide and felt very unwell as well as experiencing some confusion. It was only when a routine check on the gas boiler was carried out, that a crack in the unit was revealed, emitting dangerous levels of carbon monoxide.
At the time Nadine did not know about carbon monoxide poisoning and the house she lived in did not have a CO alarm fitted. Now Nadine wants to spread the word and prevent deaths caused by carbon monoxide.
CO is a deadly gas that humans are unable to detect. They only way of knowing if your appliance is faulty and leaking carbon monoxide is to fit a carbon monoxide alarm.
In the UK there are around 40 deaths a year caused by CO poisoning and approximately 4,000 people a year are treated in hospital with carbon monoxide related issues.
Don't leave detecting carbon monoxide to chance, fit a carbon monoxide alarm today