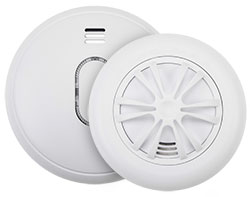 Safelincs are happy to announce the introduction of a new range of smoke and heat alarms. The new UltraFire battery-powered devices feature radio-frequency (RF) interlinking, which allows them to communicate without the need of wiring, making the installation quick and easy.
With the alarms "talking to each other" you will be alerted of an alarm activating through all connected units in the system going off: a fire detected in the kitchen by the heat alarm will alert you in your bedroom by sounding the smoke alarm installed there.
The digital "house-coding" process is simple to perform and prevents interference from other radio and electronic devices in the vicinity. Safelincs staff have been trained to further assist customers, offering to pre-connect alarms prior to dispatch, meaning that customers can simply fit the units upon delivery and then test that the units can all "communicate", making the installation fast and efficient.
The new range includes a battery-operated heat alarm, suitable for kitchens, garages and loft areas, along with an optical smoke alarm designed for use in hallways, living rooms, on landings and in bedrooms, etc.
We work closely with industry leading manufacturers and designers in fire safety in order to offer customers the best products on the market. Our UltraFire range of quality products, such as fire extinguishers, smoke alarms, site alarms, extinguisher stands, extinguisher cabinets and mobile site points is backed by years of experience and customer feedback. It is supported by our exceptional customer service and long warranties.
Order your UltraFire RF smoke and heat alarms online or call our friendly customer service team on 0800 612 6537.