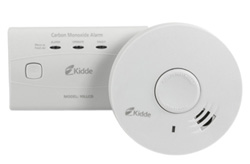 Now that the heating season is truly under way it is time to review your smoke alarms and carbon monoxide detectors to make sure you are fully protected. Smoke alarms and CO detectors should be tested once every half year but as a minimum one test per year should be carried out. To ensure that your alarms are not running out of battery power and to avoid that you get woken in the middle of the night by a low battery beep, alkaline batteries should preemptively changed once a year. The lifespan of your alarms also need checking. While smoke alarms are designed to last a full ten years, most CO detectors only last 5 to 7 years.
Any units that are out of date or fail their test need to be replaced. If you find any areas of the house that are not protected yet, you should consider purchasing new smoke and CO alarms to fill these blind spots. To make this more affordable, Safelincs, in partnership with Kidde Safety Europe, one of the leading manufacturers of smoke and carbon monoxide detectors, have introduced two great special offers.
At entry level we are now offering a standard smoke alarm together with a 7 year life CO alarm for just £13.49+VAT.
To stop you having to purchase new alkaline batteries every year and to make sure you get the maximum life out of your alarms we are also offering a top of the range 10 year smoke alarm with sealed 10 year battery and a 10 year carbon monoxide detector with a sealed 10 year battery to give you maximum protection and convenience for only £27.49+VAT.
When you can protect your home and family for a decade at a cost of under £30.00 there really is no excuse for not taking action today!
We are also here to help you with your regular testing regime. We can remind you free of charge when your next test is due – at a test frequency chosen by you.