Fire Door Help & Information
Fire door regulations in the UK
In this guide, we seek to address the main issues surrounding fire doors for those responsible for fire safety. We begin with a brief look at the relevant current legislation on fire safety, to set the subject in its context.
The Regulatory Reform (Fire Safety) Order 2005, which came into force in October 2006, states that the responsibility for the safety of people working in/visiting non-domestic premises and common areas of blocks of flats falls to the "responsible person". In summary, as noted in the HM Government publication "A short guide to making your premises safe from fire" (June 2006), the responsible person is defined by the Order as anyone who has control of the premises, or anyone who has a degree of control over certain areas or systems, for example:
The employer for those parts of premises staff may go to;
The managing agent or owner of let properties
The occupier, e.g. self-employed tenants, if they have any control over the premises; or
Any other person who has some control over a part of the premises
Depending on the circumstances, fire safety responsibility may be shared by more than one person. It is the duty of the responsible person(s) to ensure that a fire risk assessment of the premises is carried out.
The fire guidance issued by the government includes a checklist of five key steps, beginning with the identification of fire hazards and people at risk. The next step, on evaluation and action, includes the need to identify escape routes in the premises and the relevant fire safety equipment.
Fire doors are a vital component in this regard, offering protection of the escape route from fire in adjacent rooms and by compartmentalising sections of escape routes or building segments.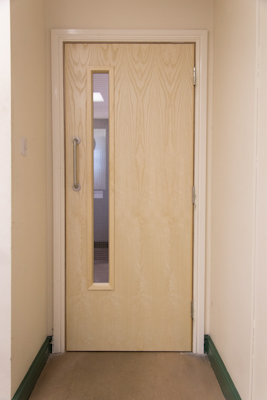 What is a fire door?
The Architectural and Specialist Door Manufacturers Association (ASDMA) defines a fire door as follows:
"A complete installed door assembly comprising doorframe, door leaves, other panels, hardware, seals and any glazing that, when closed, is intended to resist the passage of fire and smoke in accordance with specified performance criteria. A fire door = a complete installed assembly."
From this, we can understand that there is more to a fire door than meets the eye; and that, when configured, assembled and installed correctly, it will be more than the sum of its individual parts.
Fire doors are usually certified to hold back fire for 30 minutes (FD30) or 60 minutes (FD60). Read our guide to fire door ratings to find out more.
The parts of a fire door assembly
As indicated by the ASDMA definition above, fire door assemblies - or fire door sets, as they are known - comprise a number of parts and accessories.
The fire door leaf (the actual 'door' in everyday language) is typically made of solid timber or composite lightweight materials. It can be plain or panelled, with a number of finishes. If glazing is required, this has to be done with fire resistant glass: the two main types are Georgian wired and clear glass.
The fire door frame, which the manufacturer has tested together with a fire door leaf must also offer the same fire protection as the leaf, eg 30 or 60 minutes and to stop the fire spreading, a fire door seal is fitted around the sides and top of fire doors or frames. The fire door seal will swell rapidly when exposed to the heat of a fire and close off the gap between door and frame.
There is also a risk of smoke spreading through the gaps around the fire doors, even when a fire door seal is fitted. As smoke is a major cause of death and injury in a fire situation, it is sometimes necessary, especially when protecting an escape route, to provide a smoke control function on top of stopping the spread of fire. In these cases the fire doors are specified with the letter 's', eg FD30s. These fire doors require the above fire door seals with the addition of integrated bristles.
All fire door hardware (locks, latches, hinges, etc.) must be fire rated. A fire door must also have an automatic closing device: while it has to permit the flow of traffic during everyday use it must self-close in the event of a fire.
Internal fire doors should never be propped or wedged open as this stops the fire door to close when a fire starts. This practice is fined severely by law enforcement, especially when a fire happens. To still allow the free flow of traffic in a building without breaking the law, it is advisable to fit a door retainer. This type of device will hold a fire door open under normal circumstances but will automatically release the door in a fire situation and allow the door closer to close the door.
A fire door must be identified as such. In addition, fire doors should carry an appropriate sign when they are held open by a door retainer, for example "Automatic fire door keep clear" indicates that the route must remain unobstructed. For restricted access areas that are not usually populated, such as storage cupboards and boiler rooms, and which have no self-closing device fitted, "Fire door keep locked" indicates that the door must be kept shut and locked at all times.
Where are fire doors needed?
As indicated above, there are two main functions of fire doors, related to their location in a building. They work together in an integrated system in order to preserve life and property through
compartmentalising a fire; and
creating and protecting an escape route through the building. For example, to protect a corridor from rooms opening on to it, or a stairwell from the corridor(s) it serves.
The escape route in a fire situation is frequently the route of everyday traffic, hence the fire doors must not impede the normal functioning of a building. As earlier noted, door retainers can be used to keep them legally open, although the doors should be regularly closed as part of their routine maintenance in order to prevent warping or other malfunctions that could compromise their integrity in a fire situation.
In serving to compartmentalise a building and/or preserve an escape route, the function of a fire door, when closed, is to provide resistance to smoke/fire for a minimum specified length of time. Typically, this is 30 minutes or 60 minutes (FD30 or FD60). It is possible to have steel fire doors offering up to 4 hours resistance but this level of protection is usually only a requirement in specific, high-risk environments. Thirty minutes should, in most situations, allow for the evacuation of premises and response of the emergency fire services. Your fire risk assessment should identify which level of fire resistance your fire doors should require.
Can existing doors be upgraded to fire resistant standard?
Due to the specialist nature of fire doors, it is always advisable to fit them from new. This is the most cost-effective option as well.
An upgrade of existing non-fire doors to FD30 status is sometimes possible, depending on the construction of the existing door if it is part of an historic building. It should be of solid timber, at least 44mm thick and with a sound frame that is capable of bearing the additional weight of the upgraded door. The gap between the door and the frame should be 2 to 4mm.
An unpainted door can be coated with intumescent varnish or paint, to manufacturer's/supplier's specifications. A painted door can be covered with an intumescent membrane with fireproof card/wood veneer facing, which is more aesthetically pleasing than plain, non-combustible board. If glazed, the glass panel(s) must be replaced with fire rated glass.
The upgraded door must be re-hung with at least three fire protected hinges, to prevent warping. The integrity of a fire door will be severely compromised if it should warp, as it will no longer fit snugly in its frame. All other hardware, e.g. locks, latches, etc, must be similarly upgraded to fire resistant standard. Other modifications, including the addition of intumescent seals, will also be necessary, as indicated in the section above concerning the various parts of a fire door assembly. Some surface mounted fire door seals allow an upgrade without having to cut out a channel in the door to fit the seals.
The above steps should only be carried out by specialists and will almost always be a lot more expensive than new fire doors and frames.
Certification of a fire door
Manufacturers of "off the peg" or bespoke/customized fire doors and frames have their products 3rd-party certified, thereby guaranteeing the level of fire resistance. The standard test of a fire door set is to BS 476 Pt 22 or BS EN 1634-1.
Members of the British Woodworking Federation (BWF) certify their fire doors under the Certifire Fire Door and Door set Scheme. Each door set supplied to scheme specifications carries a permanent and tamper evident label.
Installation of a fire door
The ASDMA definition of a fire door as a "complete installed assembly" highlights the fact that the installation - and maintenance - of a fire door set is as important as the products used in its construction.
As such, although a competent professional can install a fire door, it is recommended that the work be carried out under the auspices of the Accredited Fire Door Installers Scheme. Developed by the BWF in association with FIRAS, the purpose of this scheme is to ensure that fire door installations are carried out correctly, safely and in compliance with current Building Regulations.
Buy fire doors
View our range of FD30 and FD60 fire doors or use our bespoke fire door configurator to order made to measure fire doors.
Related articles
Further information: some useful links