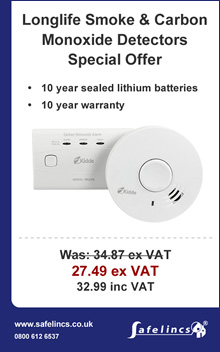 In a move to increase the safety of tenants in rented accommodation, a new law will require landlords to provide smoke and carbon monoxide alarms.
The legislation, which is due to come into force in October 2015, is estimated to help prevent up to 26 deaths and 670 injuries a year. It will require landlords to ensure that a smoke alarm is installed on each storey of a premises on which there is a room used wholly or partly as living accommodation. This would bring private rented properties into line with existing building regulations that already require newly-built homes to have hard-wired smoke alarms installed.
In addition carbon monoxide alarms must be fitted in any room which is used as living accommodation and contains a solid fuel-burning appliance. Prior to any new tenancy beginning the landlord will be required to ensure that each alarm is in proper working order.
Testing regularly will remain the tenant's responsibility.
Those who fail to install smoke and carbon monoxide alarms will face sanctions and could face a civic penalty of up to £5,000.
To ensure that smoke alarms are in a good working order and do not have their batteries removed by tenants it is best to install sealed longlife smoke alarms. Safelincs also offers sealed longlife CO alarms, again assuring landlords the safe longterm protection of their tenants.