This is the most versatile of mobile escape ladders. It has adjustable hooks spanning any wall from 9 inches wall-thickness up to a wall-thickness of just over 20 inches and can be applied from almost any type of window. The ladder has a fire resistant backing-sheet which allows the ladder to unroll safely over slanted roofs, uneven surfaces and protruding features like canopies. Distance pieces keep the rungs safely off the wall and give you an excellent foothold. The ladder can be rolled up neatly and stored in a wardrobe or similar.
Easy Storage, Lightweight & Quick to Use. Its compact size makes it easy to store under your bed or in a cupboard. In an emergency, the Rollo Roll-Out can be set up in seconds - just position it over the wall below the window and release the ladder. Please note that the ladder hooks have to be assembled on receipt of the ladder.
Place the ladder over the sill/wall and pull the red toggle. The ladder will unroll and is immediately useable. You need to set the hooks once to your wall thickness after the purchase of the ladder.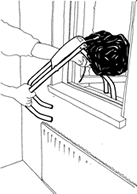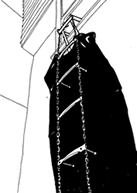 Q. What width does the window need to be to be able to use the Rollo Roll-Out escape ladder?
A. The window width needs to be at least 13 inches wide. This ensures that the rungs can be deployed without the ladder being twisted. If your window width is less than this, then the Kletterfix ladder may be more suitable.
Q. How do I calculate the wall thickness for a Veluxwindow?
A. The measurement needed is from the top of the tiles to the plaster on the inside wall.
Q. Can the Rollo Roll-Out ladder be stored in the box it is delivered in after the hooks have been attached?
A. The hooks for the ladder need to be assembled to the correct width for your window when you receive it. It is possible to fit the hooks back in the box after they are assembled, however if the hook width is large it may not go back into the box and an alternative box may be required.
Q. Which ladder is suitable for an attic window with a sloping roof outside?
A. Both the EasyScape and Rollo Roll-Out escape ladders are suitable for attic applications and can be used with a Velux or Dorma window. They have a fire retardant backing sheet that prevents the ladder getting tangled on deployment.
Customer Reviews
9 customers have rated this product and it has an overall rating of 4 out of 5
All our reviews are written by real customers that have purchased this product from us and are publsihed without modification.
Reviewed by: -
Generally impressed with the design, particularly the plastic backing to prevent it getting tangled, but it is on the expensive side. The assembly instructions and the drawings thereon are very poor. The window cill hook design could be improved.
Published on: 15th November 2015
Reviewed by: -
Bulky hooks Rollo swapped for Easyscape I found the Rollo well-made but bulky for a normal house, bearing in mind it must be stored for years ready for instant action. In particular the sill hooks on the Rollo made it impossible for me to fit the ladder into a convenient space and I swapped it for the Easyscape with its snap shackles. I believe I can make a storage box now in the space available. Certainly the box the ladder comes in is way too bulky for me I need something a bit thinner even if longer less of a cubical shape. I'm confident the ladder will do its job but I need to learn to live with it.
Published on: 7th June 2015
Reviewed by: -
Well made quick to install, not light but then it has to be strong, definitely worth the price 5 mins to set it up in my sons room (23 yr old) he can deploy it in about 20 seconds, would then take another 20-30 secs to get on it. Very quick.
Published on: 12th November 2014
Reviewed by: -
Great product , very good service & delivery, hope my client never has to use it !
Published on: 15th April 2014
Reviewed by: -
Does the job really well Shame you didn't send the item I ordered to start with but once the right item arrived I was very satisfied. Also a shame I had to chase you to arrange for collection of the wrong item you sent
Published on: 29th October 2013
Reviewed by: -
Purchased this escape ladder for 11-year old's bedroom window - relatively lightweight, but a bit cumbersome and would be difficult for a child this age to manoeuvre alone. Sturdy construction and simple to adjust to sill dimensions.
Published on: 1st April 2011
Customer didn't leave a rating
Reviewed by: -
It looks good, but I hope I don't ever have to use it!
Published on: 27th February 2011
Reviewed by: -
I found this ladder out of all I have researched to be the best option because of the fire proof backing, could prevent flames reaching you on the way down I thought and make decent a lot less scary. It also is for thicker walls. The 25ft one is very bulky and heavy though and I would not recommend buying for someone not able to lift the device out the window. Too heavy and awkward for my children to use unattended even though bought for their bedroom. In event of a fire I hope I can get to them!
Published on: 24th January 2011
Customer didn't leave a rating
Reviewed by: -
Although wall width was well within the max specified, only just fitted, so unless I was doing something wrong, info was a bit misleading.
Published on: 29th June 2010
Show All Reviews