The Sentry F2300 fire and water protection box is an ideal home and business storage unit. It offers protection against fire and water for paper documents as well as digital media including hard drives, CDs, DVDs etc. As the chest is airtight, Sentry recommend airing the unit regularly to prevent moisture build up, and to store contents in an airtight bag/holder.
60 minutes fire protection at up to 840°C
60 minute protection against water (ETL-Certified seals and lock)
UL certified
Suitable for A4 documents and digital media
Key lock - supplied with two keys as standard
Moulded recess for carrying
Internal Dimensions (HxWxD): 130x327x241mm
External Dimensions (HxWxD): 191x387x378mm
Capacity 10.2 litres
Lifelong replacement warranty in the event of a fire
Download the User Manual
Q: There is a gap around the seal on my fireproof box, is this correct??
A: The images below show that there is a gap around the lid of the F2300 large enough to insert a £1 coin into. This is perfectly within the fireproof boxes limits and does not affect its functionality. As you can see by the images, there is a gasket that sinks into the lid of the box giving it the waterproof seal.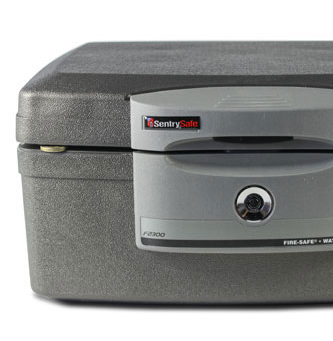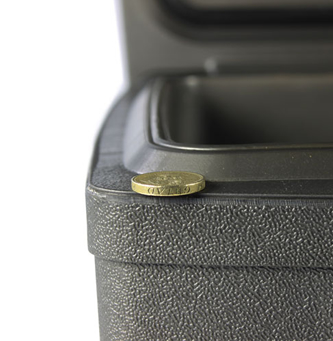 This is the technical data for the Fire + Water Proof Box for Paper and Digital Media Protection (A4) - Sentry F2300 .
Product Code
SEF2300
Weight
14.80kg
Dimensions (HxWxD)
Internal: 130x327x241mm
External: 191x387x378mm
Technical Data Sheets
The following technical data sheets are available for this product:
Customer Reviews
All our reviews are written by real customers that have purchased this product from us and are publsihed without modification.
Show All Reviews