Fire Kills, part of the Department for  Communities and Local Government, will again be running its campaign to encourage us to test their smoke alarms at the same time as we put our clocks back at the end of October.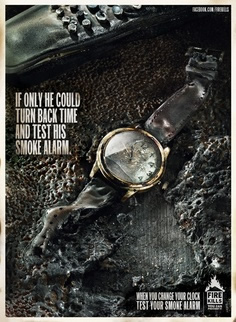 Smoke alarm maintenance has long been the primary message of the Fire Kills national advertising. With smoke alarm ownership levels at around 88%, it is evident from the statistics and real-life cases that not all of these work. The latest evidence shows that you are four times more likely to die in a fire in the home if you do not have a working smoke alarm.
Between April 2011 and March 2012 there were 380 fires deaths, many of which might have been avoided had smoke alarms been fitted. Indeed, there have been incidents where firemen at the scene of a tragedy have found that smoke alarms were present and the batteries had been allowed to go flat or, in some instances, removed to power other appliances.
The campaign will include advertisements on commercial radio stations. In the past it was felt that the campaigns lacked a catchy tag line which it now has – 'Tick, Tock, Test!'
There will also be advertisements in the national press and and a social media campaign with videos on You Tube.