It is well known that computer-based technology advances very quickly, with products being outdated and replaced by a newer version, or 'generation,' almost every year. Nest Labs' range of 'smart home' products is no exception to this as the oldest two have already undergone a few iterations of redesign and improvement.
Safelincs has a close relationship with Nest in the UK and gets its stock directly from them, so you can be assured that you're buying the latest models. However, if you already own Nest products that may be older models you have nothing to worry about as there is no issue mixing new and old generations of Nest devices in your home.
Nest Protect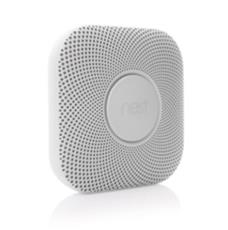 The Nest Protect combines an industrial-grade smoke detector and carbon monoxide detector with voice alerts, status and testing via a smartphone app, and a range of extra features like a motion-sensing nightlight. With the second generation, you can even hush false alarms from the app.
The 2nd generation Nest Protect has been redesigned with a more curved and smooth profile, a clear difference from the 1st gen's mostly square form. However, the new design isn't just a prettier face; it has become an even more formidable guardian for your home as it is the first domestic smoke alarm to sport a 'split-spectrum' smoke sensor.
Utilising two frequencies of light, it can more accurately detect finer particles released by fast-flaming fires. The new Nest Protect also has a special wire mesh to decrease false alarms caused by dust or bugs. Furthermore, by changing the materials and components used in manufacturing, the 2nd gen Protect has a lifespan of 10 years compared to the 1st generation's 7 years.
Nest Learning Thermostat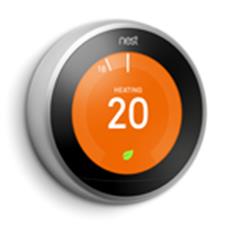 While the new Nest Learning Thermostat is a little slimmer than gen 2, the most noticeable difference is the much larger screen – 8.25cm vs 7cm – and they haven't forgotten to increase the resolution to take advantage of this upgrade. Nest has also replaced the proximity sensor in the latest model which enables the thermostat to detect you across the room and wake up the screen, showing you the current time or temperature.
Some more functional updates in the 3rd generation involved not only upgrading the integrated WiFi chip, to support 5GHz for futureproofing against newer routers and to reduce dropped connections, but Nest also added support for OpenTherm. If your boiler supports this technology, the Nest Learning Thermostat can now help you manage your hot water as well as central heating.
If you do not recognise your Nest thermostat here, please visit https://nest.com/support/article/How-can-I-tell-which-Nest-Learning-Thermostat-I-have. You may have an older generation thermostat which was not made for compatibility with European systems.
Nest Cam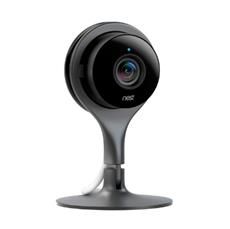 The Nest Cam comes in two versions, Indoor and Outdoor, though both are on their first iteration so no matter where you see them or how long you've had one, it's still the latest model. The black Indoor model is almost shaped like an inverted raindrop and has a noticeably slimmer and sleeker profile compared to its weatherproof brother, which appears more like a white coffee cup with no handle.
Regardless of which model you purchase you'll get a bunch of great features like snapshots of activity over the last 3-hours, optional subscriptions for 10- or 30-day full video history, the ability to view live video from anywhere over the Internet, and 2-way voice communications between the Nest app and your Nest Cam. The only functional differences between the two are their mounting options and that the Outdoor model's components are weatherproof.
To summarise, while Nest's offerings have gone through a varying number of upgrades you can rest assured that, as long as you don't accidentally purchase a first generation Learning Thermostat, all of your Nest gadgets will work together seamlessly. If you really want to have the latest models, though, Safelincs has you covered.
For any questions or to place an order you can call us on 0800 978 8202 or email support@safelincs.co.uk.