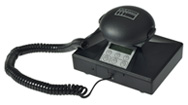 Raising the alarm for deaf people in the event of a fire is not something that those unaffected by the issue would ordinarily consider. However, the specific problem of alerting anyone affected by deafness poses an obvious challenge that is beyond the capabilities of standard smoke alarms.
It is Deafblind Awareness Week, Monday the 22nd to Friday the 26th of June, and we are drawing the attention of businesses to some of the innovative solutions available to combat this specific issue.
Deafness poses a fundamental problem for standard smoke alarm systems because they are designed to raise an audible alarm in the event of a fire. If you have ever been in a large public building when a fire alarm system has been triggered, you may very well have noticed that the alarms were supplemented by strobe beacons. These are an additional feature that can be installed to alert anyone unable to hear the alarms, and are becoming commonplace in fire alarm systems covering public buildings.
Strobes are an effective way of adding a visual alert to a mainly audio driven system, but they rely completely on deaf or hard of hearing individuals noticing the lights. In a hotel or guest house the weakness is obvious as a strobe light is unlikely to wake a sleeping person. Indeed such buildings may only have audible alarms fitted.
That's where the Deafgard from Fireco and the Ei175 system from Ei Electronics come into their own. Both of these systems feature a vibrating pad that is triggered in the event of a smoke alarm going off. These are designed to be placed under pillows and wake users in the event of a fire.
An Ei175 system is connected to and triggered by a smoke alarm and features a strobe light built in to the hardware. Up to 12 devices can be linked to this unit, allowing coverage to be extended across an entire building. It is also possible to integrate further strobes to give additional visual indicators. A wireless version is also available to reduce the installation costs.
Deafgards work on a different principle, in that they are wire-free and sound activated. When an alarm goes off within audible range of the unit, the Deafgard 'hears' the alarm and the vibration pad as well as the small strobe in the Deafgard are engaged. This has the obvious advantage that Deafgards are portable and can be used in multiple locations. This makes them a popular choice for hotels and guest houses looking to provide protection for deaf or hard of hearing guests, as well as deaf individuals that travel extensively.
These inventive solutions exist to ensure everyone is afforded an equal level of protection when a fire is detected. For further information or assistance, please contact our customer service team at support@safelincs.co.uk or ring us on 0800 612 6537.