Fire brigade leaders from cities including Manchester, Birmingham and Liverpool are warning that more people will die in house fires if government ministers push ahead with cuts to fire services.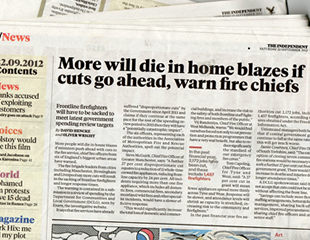 An article in the Independent (22/9/12) reported that the warning was contained in a submission to a review of spending by the Department for Communities and Local Government (DCLG) and seen by Exaro, the investigative website.
In the past financial year fire authorities cut 2,172 jobs, including 1457 firefighters, according to figures obtained under the Freedom of Information Act. Unions and managers both believe if cuts continue response to incidents will be slower and attendance levels will shrink as capacity is stretched – increasing risk to the community and firefighters.
However, a DCLG spokeswoman said it did not accept cuts could not be made without affecting the front line. "Savings can include more flexible staffing arrangements, better sickness management, sharing back-office services, improved procurement and sharing chief fire officers and other senior staff."
Taking precautions
Whichever side of the argument one takes, the debate should encourage people to ensure all the necessary precautions have been taken to safeguard their homes. At a time of year when fires are ignited, electric blankets switched on and candles lit, it is especially important to ensure that all the necessary safety measures have been taken.
One of the most obvious steps to take is to ensure that smoke alarms are fitted on every level of a property.  There are many different types available to suit all budgets and requirements.
A battery operated device with a five year guarantee can be purchased for under £8. Radio interlinked devices, whereby a device being activated in one room triggers the alarms in other areas, are more expensive. Heat alarms are recommended for kitchens as they won't be set of by cooking fumes. Smoke alarms for the deaf and hard of hearing feature high-intensity strobe lights and vibration pads.
Whilst the majority of homes now have smoke alarms fitted it is important that they are maintained properly. The batteries should be tested regularly and replaced according to manufacturer's recommendations. And the unit should be replaced after ten years as the sensors cannot be relied upon beyond this time. A free reminder service on the Safelincs website reminds people by text or email when each of these activities need to take place.
Mains alarms
There is a misconception that mains smoke alarms last forever. This is not the case. Just like battery systems the sensor cannot be guaranteed to be effective beyond ten years. However, many older models can be replaced with a genuine replacement alarm from the same manufacturer. This allows the main part of the alarm, containing the sensor, to be replaced leaving the base unit in place. The procedure can be simply carried out by the householder without the expense of calling in an electrician.
Fire extinguishers
Many people like the peace of mind of having a fire extinguisher in the home and there are many domestic versions now available. One of the most interesting new products on the market is the UltraFire Water Mist extinguisher. This can be used on just about every type of domestic fire, including deep fat fires, and can be safely operated around electrical appliances.
The extinguisher works by dispersing microscopic 'dry' water mist particles to suppress fires and extinguish burning materials very rapidly. There are no chemicals involved, so it is 100% environmentally friendly. Should the extinguisher need to be discharged in a cooking area there is no danger of contaminated food. And there is no risk to children.
When purchasing any type of extinguisher you should familiarise yourself with the operating instructions. Fire extinguishers will work well on small fires but if they spread there is no alternative but to get out and call the fire service.