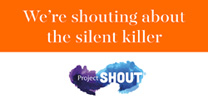 Project SHOUT, a campaign to raise awareness of carbon monoxide (chemical symbol CO) poisoning, launches today, September 7th 2015. We are proud to support this initiative and help spread the word about the silent killer – carbon monoxide.
Here are some of the facts: Tragically around 50 people die each year from carbon monoxide poisoning, 200 people require hospital treatment and a staggering 4000 people attend an A&E clinic with suspected CO poisoning. Yet there is still a lack of awareness of the dangers of CO.
How can we change these facts and figures? By spreading the awareness and knowledge that CO is a threat to anyone who has a fuel burning appliance in their home or lives in a home that is adjacent to a property with a fuel burning appliance.
CO is the result of ineffective burning of a carbon based fuel and it can leak into a home if flues are not working correctly or if, for example, gas burning appliances are faulty. Labelled as the silent killer carbon monoxide can not be detected by humans. It has no taste, smell or colour and can only be detected with the help of a carbon monoxide alarm.
Find out more about Project SHOUT. If you want to protect your family from the dangers of CO, take advantage of our special offer. For help and advice contact us on 0800 612 6537 or visit our carbon monoxide help pages.