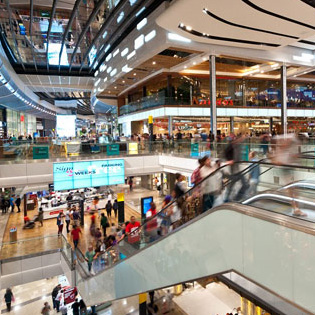 The Westfield Shopping Centre in London is one of the largest shopping centres in Europe with 280 retail outlets and 50 eateries. At the time of construction in 2011 the focus was on innovation and sustainability. Fast forward three years to review our involvement in the success of the building.
In 2011 Safelincs won the contract to supply Westfield with high quality DALI addressable emergency lighting connected to a DALI digital lighting control system. DALI systems reduce the inspection and maintenance requirement for lighting, especially emergency lighting.
The use of natural light and efficient lighting amongst other energy saving measures ensured that Westfield achieved an 'excellent' BREEAM (environmental rating).
All Safelincs emergency lighting units were manufactured with integrated control and diagnostic capabilities adhering to strict efficiency specifications without compromising performance.
We upgraded our MP8 and ES8 emergency lights to DALI technology which were then used on all emergency exit routes, final exits and communal spaces in the shopping centre. DALI systems perform the necessary self-diagnostic tests in accordance with BS5266. Each emergency light sends its self test results to the central panel and if a malfunction is found with an individual lighting unit, the specific fault is highlighted.
MP8 were supplied in a chrome finish, complimenting the shopping centre's interior design.Our maintained (always on) version of ESW units were placed outside of all final exits. Protected up to IP65, the ESW is a tough waterproof unit ideal for external installation.
The use of DALI addressable emergency units into the lighting control system made a very complex system easy to manage. The emergency lighting supplied by Safelincs has delivered long term value for our customer – in terms of operational savings, fire safety and energy savings. We look forward to being involved in future projects such as this.