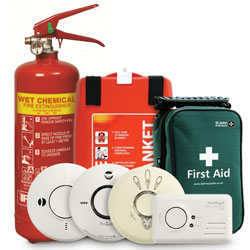 Rising rents are forcing many people in the UK to consider other options – such as becoming property guardians. They move into abandoned homes, maybe for a month, maybe for years. From the owner's point of view, an occupied building is less likely to be burgled or destroyed; the guardians obtain low-cost accommodation.
Safelincs works with a property management company that specialises in bringing together owners and potential guardians. There are thousands of empty properties in the UK, including flats, houses, churches, libraries and offices. They may be empty for many reasons – waiting to be sold, waiting for planning permission, or needing to be looked after while the owners are overseas. The property management company puts these buildings back into use, helping both the property owner and people looking for short term, low-cost accommodation.
For some time, Safelincs has been providing bespoke fire safety equipment kits which the company issued to its live-in guardians. These consisted of a fire blanket, a fire extinguisher, a first aid kit, smoke alarms, a CO alarm, a wind-up torch and a bespoke fire action sign. The company recently decided to take its fire safety provisions to an even higher level and approached Safelincs to work out a solution.
Risk assessments are now carried out on all properties where guardians are being installed. This assessment identifies the fire safety equipment required for each individual property. Safelincs then supplies the appropriate fire safety services and equipment including fire extinguishers, appropriate signage, smoke and CO alarms (usually radio-interlinked), door closers, fire door accessories and other fire safety equipment. By working with Safelincs, the company is able to create a more bespoke fire safety plan for each property.
Safelincs provide sensible and practical advice for the safety equipment required at each location. Its role has become more that of a strategic partner than simply a supplier.