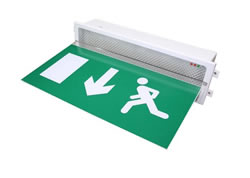 Ringtail, Safelincs' supplier of Emergency Lighting products have developed a full range of LED emergency lights to meet the future requirements for low energy, high efficiency and environmental friendly emergency lights.
There are many advantages associated with LEDs, the main ones being reliability and longevity. A typical high-power LED will realise 10 years maintenance free service when used for 12 hours every day, thus saving the maintenance costs of replacing 20 new filament lamps over the 10 year life span and the environmental cost of their disposal.
In addition, a 9W LED is now brighter than a 35W dichroic and is using 75% less electricity, thus producing a cost saving in electricity consumption of up to £155.00 during its lifetime.
The small dimensions, low power consumption, higher luminous efficacy and low beam temperature of the LED allow many opportunities in design flexibility.
LEDs are the future for emergency lighting requirements. Start saving today and install LED emergency lights