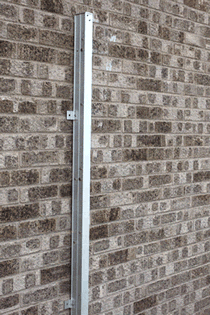 When a leading Scottish construction company required a discreet foldable ladder to allow access for maintenance to the attic areas of some care homes it was building, it chose the Saffold ladder from Safelincs.
City Building (Glasgow) LLP is a highly successful and evolving business which has recently been recognised as one of the top 90 businesses in Scotland for employment and diversity. One of its recent projects was the construction of a complex of eight care homes. Each had an attic area that required a compact and unobtrusive ladder to enable access for tasks such as service and maintenance.
The company chose the unique Saffold access ladder from Safelincs following a competitive procurement process. With a slim profile and sturdy construction this foldable ladder, which is used alternatively as escape or access ladder, provided the perfect solution. When the Saffold ladder is not in use, the anti-slip rungs are concealed within its own low profile. The closed ladder is only 74mm deep and has an appearance much like that of a drainpipe or cable trunking, enabling it to be inconspicuous.
The Saffold access ladder can be released from either the top or bottom by removing an anti-tamper pin or using an optional key lock. The ladder opens out away from the wall with the rungs rotating into place as the rail extends to form a sturdy, fixed access ladder. There is also an option for a pull-out handle, which allows users to access the Saffold ladder from above, maintaining their safety before and during descent.
Although the Saffold ladder was originally designed for outdoor use, it is ideal for indoor application where its anodised aluminium finish looks unobtrusive and elegant. It provided the customer with an easy-to-fit access solution which is inconspicuous and space-saving while not in use but an extremely sturdy and safe ladder when deployed. The ladder can also be locked to stop unauthorised access.
If you are interested in this product, please call our team on 0800 077 6149 or email us on support@safelincs.co.uk