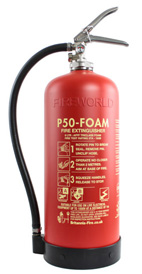 Bowmer & Kirkland, a very successful UK construction, engineering and development group, is investing in P50 foam extinguishers for the majority of its construction sites.
With more than 100 active sites working across all sectors throughout England, Wales and Scotland, on-site safety is paramount for the Bowmer & Kirkland Group. Every installation has to be equipped with appropriate fire extinguishers. Previously this had meant a mixture of water or AFFF, dry powder or CO2 extinguishers.
Investing in P50 foam extinguishers enables the company to simplify the types of appliances employed whilst still covering all eventualities. P50 foam extinguishers can be utilised on Class A and Class B fires, and are safe for use on live electrical equipment up to 1000 volts at a distance of one metre. This means that on many sites a single type of extinguisher can be employed instead of three.
P50s are constructed from a very strong composite material and are not susceptible to dents, rust or corrosion like standard extinguishers. Models with anti-freeze additives remain operational down to temperatures of -10 °C.
As well as reducing the overall number of extinguishers required, Bowmer & Kirkland now has portable fire fighting equipment that is especially suited to the extreme conditions on some of its sites.