One of the many things that set us apart from other fire safety companies is our pro-active approach to technology. A large part of our resources is channelled into strengthening our online systems, especially if these will benefit our customers. We pride ourselves of our ever-expanding team of web developers, based in the city centre of Hull. Hull has a thriving digital community and is the fastest-growing digital sector outside of London, making it the perfect place to build a passionate and skilled team.
It comes as no surprise, then, that our developers also like to keep on top of their game. Sitting at a desk for long periods of time isn't good for you, so we decided to install a standing desk to see how it will benefit the staff. Our senior developer, Leonard, is the lucky guinea pig:
"Safelincs really looks after us. All staff are offered free fruit, drinks and, most importantly, free sweets.  We are encouraged to take regular breaks away from the computer, however, as other developers will attest to, we have a bit of a name for getting immersed in our work. I'd read about the long-term effects sitting at a desk all day every day can have and had toyed with the idea of a standing desk for a while. I'd seen plenty of people taking the plunge, and when talking about it to other people I was often met with intrigue and positive comments. For me, the health benefits are the most positive reason, but from speaking with other developers in the area and trialling a standing desk at home for a short time, I also found that my productivity and mood were better, too. It encourages me to move around, and although it's initially tough getting used to standing all day at work again for the first time since my evening job at university, I feel great!"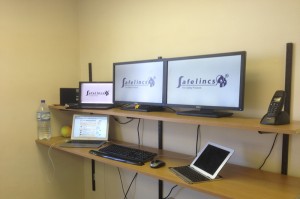 Have you also got a standing desk? How are you finding it? Let us know on Twitter.