We are offering a new service, completely free of charge, that will remind households  to check that their smoke alarms are in working condition and will actually protect them in case of a fire.
This week the government's Fire Kills campaign launched its new advertising series to promote fire safety in the home.  The focus of this year's campaign is again on householders testing their alarms and replacing flat batteries. As stakeholders in the organisation, Safelincs are supporting this message with their new smoke alarm test reminder service.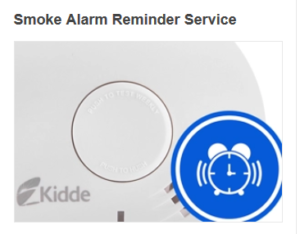 Householders can register with the service and request notification by email or SMS when the next smoke alarm test is due.  You can decide the reminder frequency when registering with the service.  There are also options to request a reminder when the batterie needs replacing and the smoke alarm has come to the end of its useful life, which is usually after ten years.
To register with this free service, just visit www.safelincs.co.uk/reminders.
For their online customers, Safelincs have created further additions to this service. When you have placed an order with us, Safelincs offer to remind you about the regular tests your new fire safety equipment might require, e.g. the testing of your smoke alarms, the yearly service of your fire extinguishers, the regular testing of newly purchased emergency lighting ad more.
To benefit from this additional service, just order your fire safety equipment on www.safelincs.co.uk.