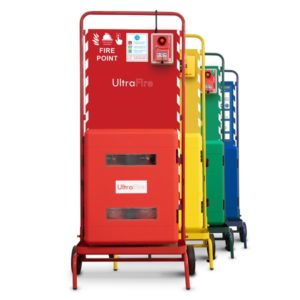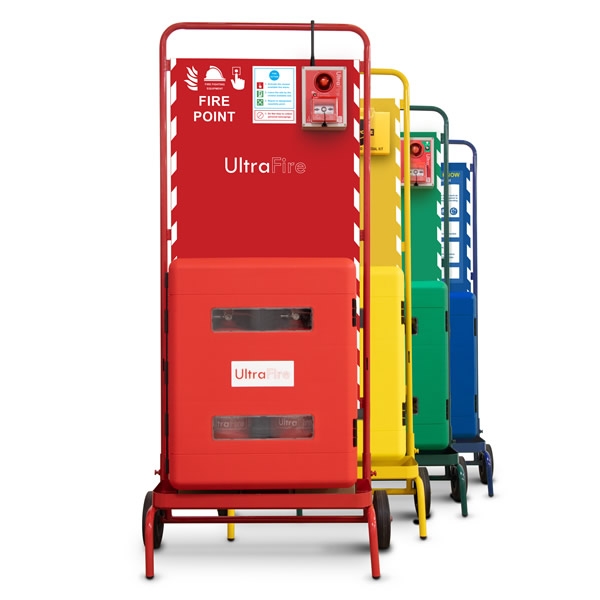 Open spaces such as construction sites, short term events and garage forecourts can be difficult to provide for in terms of safety provisions, especially if you require your extinguishers to be portable or need to relocate them to a new site at a later date. However, if you have employees or members of the public on your site, you have a duty to ensure their safety.
UltraFire offer you the perfect solution for all your fire and health and safety needs; a bespoke mobile extinguisher site stand / safety stand tailor-made to your needs. Site stands are not a new development, but the UltraFire is the first to allow you to choose exactly how yours is configured. Available in a range of bright colours to indicate its purpose – red for fire, green for first aid, yellow for spills kits, blue for PPE – the stand is infinitely variable in its design by letting you choose what kit it contains, what information it displays and any additional alarm features you may need.
Certain information such as fire emergency procedures must be displayed by law. You also need a means of alerting everyone on site in the event of an emergency. Your bespoke stand can display a range of safety information signs and can even include battery powered fire alarms and accident sirens as well as extinguishers and, for example, spill kits to ensure you meet your H&S and legal duties. And being mobile, your stand can simply be wheeled to the next location as your site expands or moves.
Get in touch to tailor-make your site stand