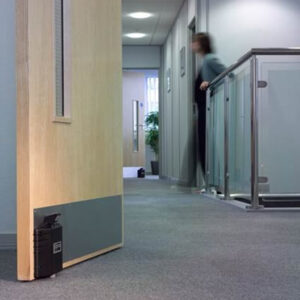 Now that the weather is getting warm, many offices will be feeling hot and stuffy. The natural reaction to this is to open doors and windows to increase the air circulation.
However, holding self-closing fire doors open with extinguishers and other 'handy' objects stops fire doors closing when the fire alarm sounds. This is not only illegal, it is also very dangerous. Fire will spread rapidly should the fire doors remain open. This is where a Dorgard Fire Door Retainer (fire door holder) comes in.
The Dorgard is designed to hold fire doors open and to automatically release when the fire alarm sounds. Dorgard is battery operated so there is no need for costly electrician bills to install the units. Safelincs offers the Dorgard with an unprecedented 5 year warranty, which is exclusive to our customers. No other distributor offers the 5 year warranty. We also ship the Dorgard free of charge and offer quantity discounts on multiple units purchased together.
Dorgard is suitable for offices, nursing homes, GP surgeries and other sites where occupants would like fire doors to be held open legally. For more information about our Dorgards with 5 year warranty, visit Safelincs Dorgards