We ship many thousands of fire safety products every month to our customers. This can range from a single smoke alarm for a residential customer to over 100,000.00 individual carbon monoxide detectors for a single public sector organisation. On top of this, a substantial number of fire safety retailers use our warehousing facility to dropship their orders directly to their customers.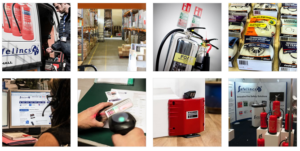 All these fire safety products must be warehoused and dispatched professionally. We have to guarantee the quality of our fire extinguishers, fire doors, fire safes and other fire safety equipment. We have to ensure that exactly the right quantity with the correct part number is shipped on time and that the smoke detectors, glass break panels and fragile emergency lights are not damaged in transit. Our team uses a barcode quality control system to keep control of over 1500 fire safety lines making sure you will always receive the correct item and with the necessary documentation. We have reached a 'right first time' rate of over 99.8%, an unsurpassed benchmark for the fire safety industry.
Now we are pushing even further to ensure that our warehouse is one of the best. In October Safelincs will be audited by the UK Warehousing Association as a nationally recognised warehouse operator. This will give our customers even more confidence in buying fire safety products from Safelincs.