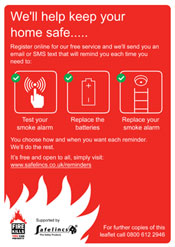 In January this year the Government announced that responsibility for fire and rescue policy would move from the Department for Communities and Local Government to the Home Office.
Included in this move is the Fire Kills fire safety campaign with which Safelincs has been partnered since 2009. Fire Kills is responsible for the promotion of fire prevention strategies in conjunction with the country's fire services. Notably, it has continuously run a campaign to encourage people to test their smoke alarms on a regular basis. Safelincs support this with its free smoke alarm reminder service and a range of printed posters and leaflets jointly created with Fire Kills.
The reason for the move is the government's manifesto commitment to deliver greater joint working between the police and the fire service. It is believed that this will pave the way for improvement in local fire fighting and policing by providing clear leadership, supporting greater collaboration and delivering value for money for taxpayers. It should also allow the government to share good practice more effectively in areas such as procurement and prevention.
For Fire Kills staff it will be a virtual move; they will remain in their offices in Victoria, London but will have new telephone numbers and email addresses now that they have come under the Home Office umbrella.
Safelincs will continue to support Fire Kills by campaigning to increase awareness about the dangers of fire and by publicising prevention initiatives.