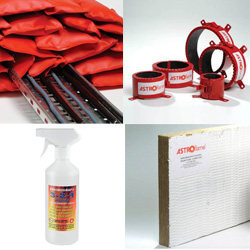 Passive fire protection (PFP) is a broad term that covers a myriad of products and concepts. As part of our desire to provide the best service and resources to our customers, Safelincs has published a comprehensive help and advice section covering all aspects of PFP.
Broken down into a series of targeted guides, this help and advice resource builds on questions raised within our fire safety forum, where passive fire protection has always been a hot topic. Specific areas covered include building regulations, compartmentalisation, furniture labelling, intumescent materials and much more.
Passive fire protection is an essential part of fire safety and is intended to help delay the spread of fire throughout a building. The integration of PFP into the fabric of a building is a legal requirement in newly built or modified properties and all commercial or public buildings.
However, there are also steps homeowners can take to slow the spread of fire throughout their property. Our guide introduces products such as fire retardant sprays which can be used to treat items like bedding and curtains to increase their fire resistance.
If you have a specific or general question about passive fire protection, our new help section is sure to contain the answer. By building on the questions raised in our forum, we have been able to tailor the information provided to the needs of real people and respond to genuine questions that relate to PFP. This gives our new PFP help and advice section a level of relevance to everyday life that is seldom found in fire and safety guides.