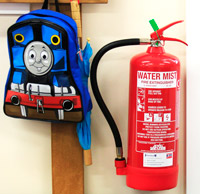 We recently heard reports that a school had removed all of their portable fire extinguishers following a fire risk assessment. After our initial surprise at this story we had a closer look at fire extinguishers in schools. Certainly, schools are environments where the vast majority of people on site have no knowledge about fire extinguishers. There is also a risk of extinguisher misuse and with it a risk of injury. Added to this comes the difficulty that the surprisingly still popular CO2 fire extinguishers, which can cause significant injuries, have no pressure display to show that they have been discharged. With vandalism a concern, this is of course unacceptable. Is it therefore right to throw out all extinguishers?
We believe that schools should carefully re-assess what really is required, how they can minimise the number of extinguishers, reduce vandalism and costs. At the same time we feel that there are very valid reasons to still have portable extinguishers in schools. The number required could be reduced, though and safer ones than currently deployed should be installed. When assessing the need for extinguishers it is important to focus on basics. Portable extinguishers are not meant to fight fires once they have got established. They are designed to tackle small, smouldering fires, as soon as they have been detected. At this stage a fire can easily be tackled with an extinguisher by almost any member of staff and successfully extinguished; staff would of course ideally need a little training beforehand. A FIA (Fire Industry Association) study from 2010 clearly shows that fire extinguishers work. The study showed that the use of portable fire extinguishers was successful in about 90% of cases. The only type of extinguisher with a relatively weak track record at the time were CO2 extinguishers. We would therefore recommend that CO2 extinguishers are restricted to specialist applications, such as server rooms.
There is also a need for extinguishers that can be used on the widest possible range of fires and are completely safe if accidentally used by a child or aimed at a person. Luckily that type of extinguisher now exists. Water mist extinguishers with de-ionised water can be used for all standard types of fires including electrical applications and will not injure people if aimed at them.
We created an article that explores the best extinguishers to be used in schools. You can also ask our engineers and risk assessors to visit your school to recommend the best and most cost efficient fire fighting cover. We are there to offer you the best solutions. Putting a fire out whilst it is still small could save the school thousands of pounds in damages as well as saving lives.