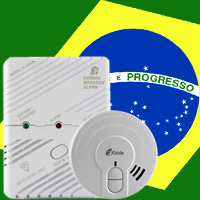 Presenters and reporters travelling to the World Cup in Brazil have been equipped with smoke alarms, heat alarms and carbon monoxide alarms by Safelincs.
Any organisation that has employees travelling abroad has a duty of care to ensure that their health and safety is protected. The BBC has its people covering football matches in different parts of Brazil and they will be staying in various types of accommodation.
"I'm sure the accommodation the journalists will be staying in will be perfectly safe," commented Harry Dewick-Eisele, managing director of Safelincs. "However, uptake of smoke and carbon monoxide alarms has not been as great in South America as it has been in the UK, so the BBC is taking very sensible precautions for its employees travelling to the World Cup."
Safelincs were able to provide the BBC with a comprehensive selection of products at competitive prices, all delivered in timescales that were second to none.