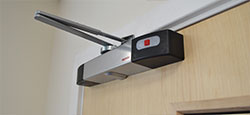 Residents at the Westwood Care Home have given the Agrippa free-swing fire door closers their approval, as they provide the option to have their fire doors partially open leaving them feeling less shut off from the rest of the home, whilst retaining some privacy. The Agrippa door closer allows a fire door to be used just like a normal door without the resistance usually associated with fire door closers. However, the moment the closer 'hears' a fire alarm, it changes its operating mode and turns into a traditional door closer, closing the fire door to stop the spread of fire and smoke.
Based in an Edwardian Town House in Chorley, Westwood Residential Care Home has chosen to have the wire-free fire door closers installed onto resident's doors.
Stephanie Crane, Director at Westwood said: "We were searching for an alternative solution to our existing door holders as they were damaging the carpets in the home. The residents at the care home needed a solution to make their doors light and easy to move, whilst closing in the event of a fire."
Westwood offers a personalised 24-hour quality care service for up to twenty people over the age of 65, delivered by a highly-trained and well experienced team of staff.
The Agrippa fire door closer is a battery powered device providing a safe and legal solution to holding open and closing fire doors. The door closer is discreetly installed at the top of the fire door providing restriction-free movement to make the door light and easy to move.
The closer complies with the Building Regulations Approved Document M Section 3.10 Parts K & L, which state that fire doors should self-close when activated by the fire alarm, when the power supply fails or by a hand-operated switch.
The closer is part of the Agrippa suite of products, which also includes an acoustically triggered fire door holder and pillow fire alarm.