With funding now available for schools in Scotland and Wales to improve air circulation, we look at how the money can be best spent to increase ventilation without compromising fire safety. Fire doors are critical to any building's infrastructure, but they can be a barrier to good air circulation. Propping or wedging open fire doors, or cutting the bottom off a fire door could be dangerous. The door may fail to prevent the spread of fire. So, what are the legal and safe alternatives to increase ventilation in schools?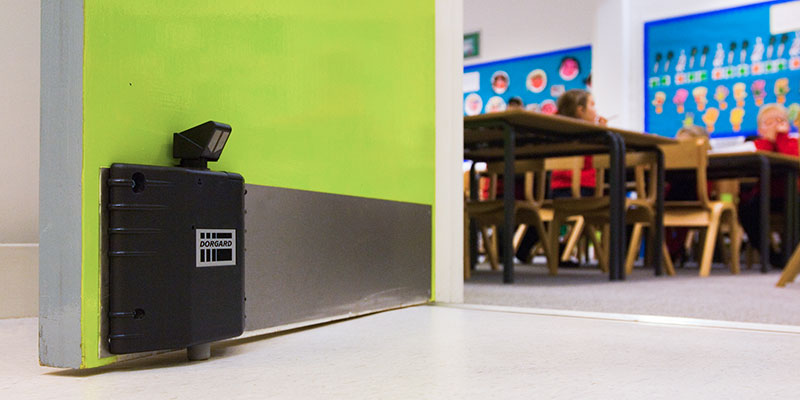 Improve air circulation with a fire door retainer
The Dorgard Fire Door Retainer and Freedor Door Closer from Fireco can improve ventilation without compromising fire safety. By holding open fire doors safely, they allow air to circulate throughout the building. Doors are released to close as soon as the fire alarm sounds, protecting pupils, staff and property.
Dorgard Fire Door Retainers and Freedor Door Closers are a relatively low-cost solution. Both devices are wireless and battery operated meaning they are simple to install with no wiring required. They can be easily installed on classroom fire doors by your handyman. These devices work with your existing fire alarm by 'listening' for the sound of the alarm before releasing the door to close. Dorgard SmartSound and Freedor SmartSound can be trained to listen to the specific sound of your alarm. This means they are unaffected by background noise.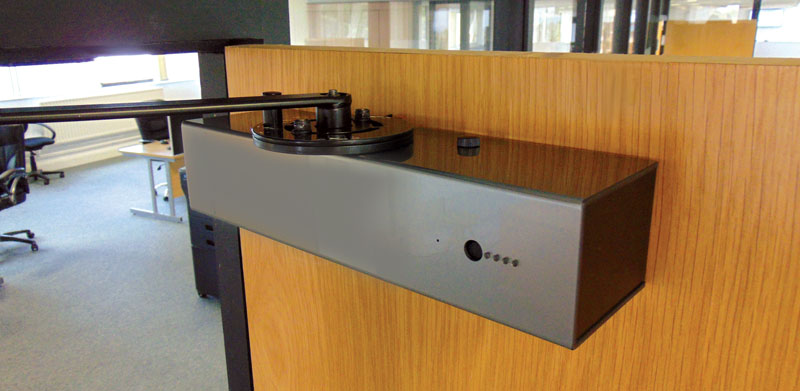 Allow ventilation with an intumescent grill
Air flow can be increased in schools by installing fire-proof ventilation grilles into fire doors. This should only be done after checking that the fire door can be adapted to include intumescent grilles. Due to the varying construction of fire doors, some doors cannot be safely altered in this way. Some doors may need an additional hard wood liner fitted in the newly-created aperture. Fire doors that require cold smoke seals may not be suitable for installing intumescent grilles. As the grilles rely on heat from fire to activate them to swell, cold smoke may be able to pass through before this happens. Always consult your fire risk assessment for the type of seals that are required before carrying out any work on your fire doors.
Air transfer vents fitted into fire doors should always be fire-rated. Intumescent grilles are specially designed to swell when exposed to heat, closing the gap and maintaining the fire resistance of the door. A standard air transfer vent would not do this and so would invalidate the fire door certification and fail to stop the spread of fire.
Safelincs fire door services
If you are unsure about whether your fire doors are fit for purpose, or require support to install fire door retainers contact our fire door team on 01507 464185 or email firedoors@safelincs.co.uk. Our qualified engineers can visit your site anywhere in the UK to inspect existing doors or carry out installation work.
FAQs
Is it safe to cut the bottom off a fire door to improve ventilation?
Fire doors should never be cut to improve ventilation. The maximum gap under a fire door is 8-10mm depending on the door specification. A gap any larger than that could result in the door failing to prevent the spread of fire. Some fire doors can be trimmed to fit if they are too tall for the door opening. Always consult the manufacturer to ensure it is possible to trim the door without affecting its fire rating. Great care should be taken when altering fire doors so that the door certification is not invalidated.
What funding is available for schools to improve ventilation?
A new funding package of £5 million has recently been announced by Nicola Sturgeon. Councils in Scotland will receive funds so they can take necessary steps to improve ventilation in school classrooms. This is to help stop the spread of covid 19 in educational environments. £300,000 of this funding has been allocated for improvements to doors. There is some controversy over the suggestion by Nicola Sturgeon that this should be used to 'undercut doors to increase ventilation'. The fire service is keen to stress that this should not be done to fire doors. The fire doors would not be able to prevent the spread of fire and smoke with a large gap underneath. For fire doors, a fire door retainer is a more practical, safe and legal option for schools.
Wales already has funding in place for schools to improve ventilation and be more covid-secure. England has no funding package at this time, although CO2 monitors for schools have been provided free of charge.