Friday 7th February 2020
As reported by the BBC, the Chief Fire Officer (CFO) at Lincolnshire Fire and Rescue – Les Britzman – is asking business owners to take more care and responsibility in regards to false alarms. Provided that there are no hazardous materials in the premises and there is no immediate risk to life or the community, the CFO says they should "have systems in place to go and check those buildings themselves" before calling 999. This is inline with information and advice from the London Fire Brigade who attended around 38,000 false alarms in 2017 alone, diverting resources from real emergencies and putting people at risk due to avoidable blue light journeys.
BS 5839 Part 1, the Code of Practice for design, installation, commissioning and maintenance of fire alarm systems in non-domestic premises, has a focus on managing false alarms, which means doing so is necessary to maintain compliance. The Responsible Person must ensure that all false alarms on a system are logged and investigated for a root cause, and that mitigating work is undertaken as necessary. This could be fitting simple flip covers to manual call points, a recommendation in the Standard, to prevent accidental activation.
Another fundamental part of managing false alarms in existing fire alarm systems is to ensure they are tested, inspected, and serviced at regular intervals. This will reduce the risks of false alarms caused by faulty or improperly installed equipment, as well as identifying detectors which have become unsuitable due to a change in the purpose of a room after the system was installed. For example, swapping optical beam detectors to point heat detectors in a building that was repurposed from warehousing into a factory with machinery that creates a lot of dust.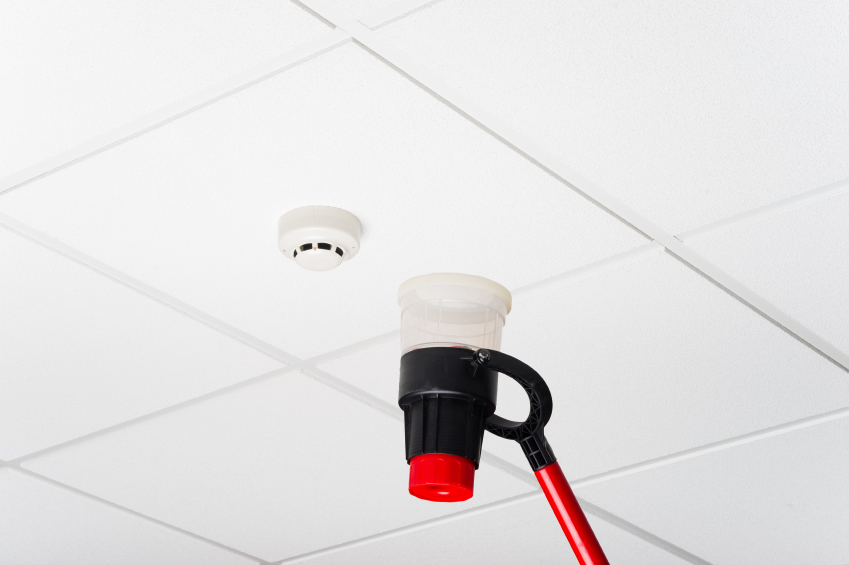 For new fire alarm systems, during the design stage the full details of the Fire Risk Assessment, the building, and its intended / current use should be made available so that the most suitable types of detector can be selected and positioned in the correct way. Suitable detectors in the correct locations are one of the easiest methods for managing false alarms as, for example, installing an optical smoke detector near kitchens or bathrooms could result in false alarms due to steam from cooking or baths and showers. While identifying design shortcomings is not generally the responsibility of an installer, the Standard does state that any issues noticed during installation – particularly those arising from features of the building that might not have been known to the designer – should be brought to the attention of the designer or Responsible Person. An example of this could be certain machinery in a room which, during normal operation, creates excessive heat that would activate a Class A1 heat detector (54 – 65°C activation) and therefore making the use of a Class B detector (69 – 85°C) more appropriate.
Managing false alarms properly ensures that time is not wasted by needless evacuations of the premises, which may also cause downtime of machinery and potentially a loss of earnings. There is also a chance that occupants may get used to hearing false alarms and fail to react properly in the event of a real emergency. Should a real fire incident occur, documentation showing full compliance will be required during the investigation and it is highly likely that insurers will also require this when processing a claim.
Safelincs provide nationwide fire alarm system servicing and maintenance contracts at competitive pricing. View our Servicing and Maintenance page, call our Servicing team on 0800 612 4827, or see our summary of BS 5839-1: 2017 for more information.