Our customers lead busy lifestyles and need flexibility when they buy their fire safety products and that is why we have now extended our opening hours. Safelincs are open seven days a week, weekdays 8am to 10pm and weekends 8:30am to 5pm. You can call our experienced and friendly sales team or use our online chat system at a time that is convenient for you.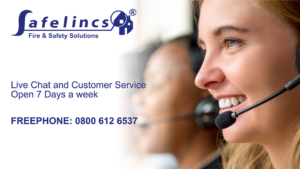 Harry Dewick-Eisele, MD said 'Safelincs always listens to its customers and it was through our customers' feedback that we started to look at extending our opening hours. We want to offer a service that suits their needs; being available seven days a week gives our customers more opportunity to ask for information and advice and find a solution to their fire safety needs.'
No matter when you call, our team will help you resolve your fire safety needs with speed and efficiency. Call our Customer Care Team on 0800 612 6537.