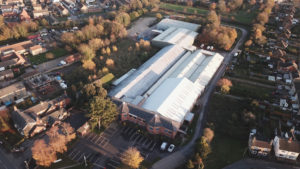 Following the purchase of our 5.5 acre site in Alford last year significant refurbishment and expansion of existing office and warehouse space has taken place. One of our biggest renovation projects is just coming to an end. We needed to overhaul one of our 5 warehouses where the underside of the roof had been sprayed with asbestos. Starting at the end of April it took specialists until September to remove the asbestos layers by hand in hermetically sealed conditions to avoid any contamination of the environment. Once the all-clear was received by environmental inspectors, a new, energy-efficient roof was installed. The asbestos removal and the new roof were part funded with a LEADER grant from the European Agricultural Fund for Rural Development, as Alford is covered by the Coastal Action Zone.
Once the rest of the warehouse renovation is completed by the end of December we will begin to assemble fire safety trolleys in the building. Shortly after, we will be starting to manufacture some of our fire safety products in the newly refurbished facility.
Safelincs has been growing at a rate of 30% year on year for the last 4 years. The increasing demand for our products has fuelled a recruitment spree and Safelincs has become one of the leading employers in the area.
If you would like to become part of our success story, please visit our job page or contact us on 0800 612 6537.