Safelincs are proud to announce that we are sponsoring Alford's Under 10s football team through the forthcoming season. On Saturday the team were officially presented with their new, branded kit. The team have just finished their most successful season yet, winning 13 out of 18 games.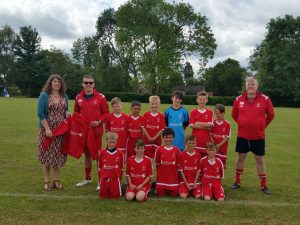 Angie Dewick-Eisele, Safelincs' HR Manager, said "It was great to see the team play, they really showed talent for the game and great team spirit". She went on to say "We are proud to be sponsoring the under 10s and we are really looking forward to following the team over the forthcoming season".
Safelincs were approached by Ollie Willett, Team Manager, earlier in the year with a view to sponsoring the new kit. Ollie said "It is great to have a local company sponsor us. We are really grateful for the support and love our new kit".