A huge number of visitors at the London Build 2017 show at the Olympia used the opportunity to test our Axel Thoms Escape Chute, a high-rise evacuation chute used for fire and emergency evacuations. It was great to see the support from Councils, architects, fire safety professionals and construction companies who took the time to find out more about the Axel Thoms Escape Chute, which can be used for buildings of up to 120m in height.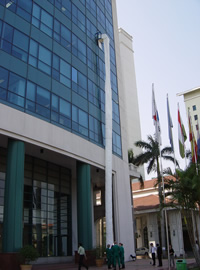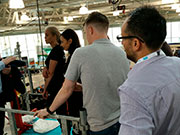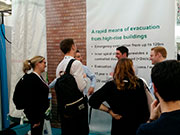 While not in use, the chute is invisible from the outside. It is stored in a box underneath the designated window. It can evacuate 15 people per minute and can be used without any waiting time between subsequent users. Inside the chute there is a helix spiral that controls the decent speed of users to a safe 2m per second and keeps users at a safe distance to each other. The chute can be used by adults, pregnant women, disabled people and children over 2 years, babies and toddlers can be carried by an adult during the safe descent.
The chute has been in production for 37 years. Thousands of the chutes have been installed worldwide and in the UK, with applications in housing, offices, government buildings, hotels, and as temporary evacuation cover on construction sites.
Each Axel Thoms Escape Chute installation is unique and to ensure that you are confident in how to use an escape chute before purchase, Safelincs offers free site surveys and can carry out test-installs with portable systems that can be installed quickly and without the use of fixings. On installation of your own Axel Thoms Escape Chute suitable anchor points underneath the inside of your window or on your roof top will be used.
If you would like to know more about the Axel Thoms Escape Chute or discuss your needs, please contact Safelincs on 0800 612 6537 and we will be happy to arrange a visit with you.