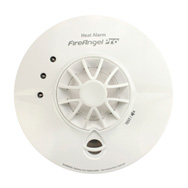 In a continuing drive to remind people to test their smoke alarms, the government agency, Fire Kills, is introducing a brand new style of advertising.
The previous 'doom and gloom' approach which focussed on fire related tragedies is being replaced by a more positive tone. The new adverts will feature 'talking' smoke alarms being friendly and helpful. Insight had shown that people tend to dislike their smoke alarms – "they only go off when I cook toast" or "the low battery warning goes off at 3am".
Under the banner 'Unsung Heroes', the campaign is a very different approach for Fire Kills as it moves away from fear to imagery that focuses directly on the smoke alarms. It is hoped that presenting smoke alarms as characters that are capable of expressing emotion and creating personalities for them allows people to relate to them.
Fire Kills' most recent strategy had been to link to the clock change, encouraging people to test their alarms while they move their clocks forward or back an hour – encouraging this behaviour by demonstrating the dreadful consequences that not having working smoke alarms can bring. However, changing clocks is less of a hook as timepieces increasingly change automatically and it was noted that even the weather forecasters do not always remind us now. Hence people need reminding to test their smoke alarms and Fire Kills now wants to promote more regular (monthly) rather than twice-yearly testing.
Radio advertising will be the lead channel and will broadcast on Capital, Heart and Smooth radio networks from 11 January to 7 February 2016. Three press adverts will appear in the Sun, Daily Mail, Daily Mirror, Guardian and Daily Telegraph from 11 January 2016 to 6 February 2016.
In addition Fire Kills will be trialling 'Out of Home' advertising with this new campaign including some large format digital advertising in seven locations across the country (Birmingham, Brighton, Bristol, Liverpool, London, Manchester and Portsmouth). It will also be supporting the large format digital activity with bus stop posters in pilot areas. These locations will be selected following analysis of campaign awareness levels and casualty data.
Safelincs has been supporting Fire Kills initiative to increase smoke alarm testing for a number of years and offers a free reminder service with tweet or email notifications.