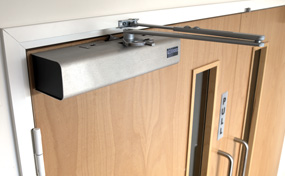 Fire doors are absolutely crucial when it comes to delaying the spread of fire throughout a building. Effective compartmentalisation can be the difference between losing a single room, and losing an entire property to fire.
Fire Door Safety Week is intended to help raise awareness of the importance of fire doors whilst encouraging building owners to check the condition of any fire doors they have installed.
Do fire doors have to stay shut?
Well maintained fire doors provide usually a minimum 30 minute barrier to prevent fire passing through. But, this is only the case if the door is closed. It is illegal to prop or wedge open fire doors with, for example, a fire extinguisher. Business owners leave themselves open to hefty fines and even jail sentences if they fail to prevent this from happening.
A simple way of addressing this problem is the Dorgard Fire Door Retainer and the Freedor Wireless Free Swing Door Closer, which  are legal ways of holding fire doors open. These devices allow doors to be retained in an open position, but automatically release the door in the event of a fire alarm, meaning the fire barrier is re-instated when a fire is detected. Commonly found in public buildings or commercial premises, they offer the perfect solution to a common problem.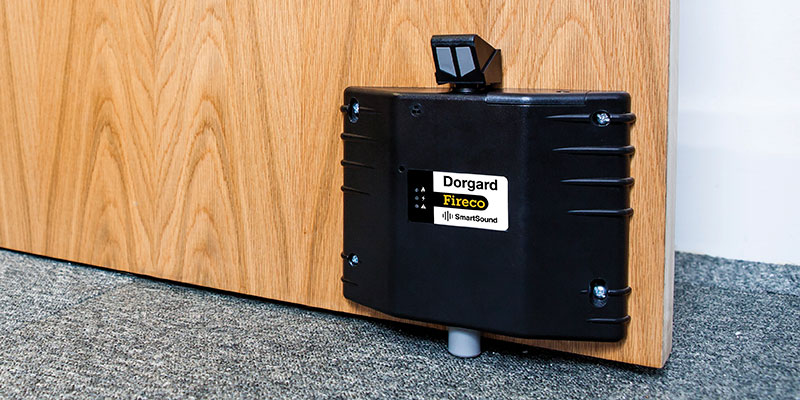 How important are fire door seals?
Of course, making sure that fire doors are closed when needed means nothing unless the fire door creates a good seal. If you can see daylight at any point around the perimeter of your fire doors, then something is certainly wrong. Fire doors or their frames should feature an intumescent seal. This will prevent flames or smoke from passing through any small gaps. These fire door seals often feature a brush-like element which is intended to prevent smoke from getting past. This seal should snugly fill the small gap between door and frame.
A simple way to test the performance of the brush element of your fire door seals is to insert a postcard (or something similar) into the gap around the door. If the seal is in good condition, this should be held in place. If the seal does not grip the card then it may warrant replacement as the brush has likely worn over time. The condition of your fire door seals must be checked periodically. If they are found to be worn or missing, it is advisable to replace them immediately.
Fire door seals come in two main types: self-adhesive surface mounted seals, or rebated seals which are sunk into the door or frame. Once again, it is a legal responsibility to ensure your fire doors and their seals are in good condition. If it were found that the maintenance of the fire doors had been neglected, then the responsible person  could be prosecuted.
Carry out regular fire door checks
We hope this article encourages you to ensure your fire doors and seals are in good condition. Making sure your fire doors are in good order is a simple task that can make a world of difference in a fire. Use our fire door checker and spend just a few minutes today to ensure your fire doors are protecting your property as well as they can.
For further information about fire doors and related products, visit our fire door help & information page, or contact us on 0800 612 6537.
You can also ask questions about fire doors in our fire safety forum.