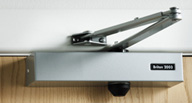 Fire Door Safety Week is a national campaign to raise awareness of the lifesaving role of fire doors and the importance of installing and maintaining them to a high standard. Poorly fitted and damaged fire doors can affect their integrity; effectively stopping them from performing correctly.
Door closers play a vital role in fire door safety, enabling the door to close fully whilst not in use or when the fire alarm sounds. When shut, the fire door compartmentalises the room and acts as a barrier against the spread of fire. Without a door closer fitted, the door remains open and no longer protects the room and the surrounding area.
Briton provides a wide range of door closers including overhead, guide rail and free-swing options to suit various applications, all of which are third party accredited by leading certification scheme Certifire. The independent certification body provides assurance that Briton door closers perform to a high standard and are compliant with the necessary regulations when correctly installed.
To promote Fire Door Safety Week, Safelincs have partnered with Briton to provide our customers with exclusive discounts on their overhead door closers, extending the offer period for one month until the 20th October 2015. So don't miss out on our limited time special offers!
Safelincs are proud to support a trusted and reliable brand and are pleased to hear Briton will be donating to the Children's Burns Trust charity at the end of Fire Door Safety Week.
Not sure which Briton door closer is right for you? Check out the Briton door closer selector, or call our customer service helpline on 0800 612 6537.