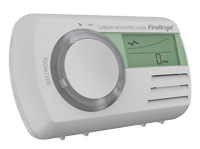 Did you know that the symptoms for carbon monoxide (CO) poisoning are very similar to those of flu? Many mistake the symptoms of headache, feeling drowsy and being nauseous with having flu when, in actual fact, these symptoms can also be the first signs of CO poisoning. How can we, as parents, ensure our sons and daughters do not mistake the signs and symptoms of CO poisoning for freshers' flu? Making them aware of the dangers of CO poisoning could save their life.
Freshers' week is an exciting time for new university students, however, for parents whose son or daughter has just left home it can be a different story altogether. You have been looking after and protecting your child for the past 18 years and giving up this roll can be hard. It can be easier to take a step back if you know that they have all the information they need to be able to make informed decisions at university. Providing them with vital health and safety information is pivotal to this.
Each year there are 50 preventable deaths from carbon monoxide, which is known as the silent killer. CO has no smell, colour or taste, making it impossible to detect with the human senses. How then, can you protect your fresher?
Encourage them to think about any symptoms of headache, nausea, dizziness, breathlessness; do these symptoms improve when they are out of their residence? An improvement in symptoms when away from the premises can be an indication that there is CO present in the building.
Having a CO detector can be a life saver. The device will alarm and alert the student even at night. Carbon monoxide can seep through walls, so even if the landlord of your teenager's room has carried out all the necessary checks and maintenance there is still a danger from adjoining buildings.
Get them to ask or check if all the safety checks and services have been carried out on appliances such as boilers, fires and cookers.
Fire crews were called out in October 2014 to a student house in Reading. The students living in the house were showing flu-like symptoms and felt very drowsy. Their carbon monoxide alarm alerted them to the presence of CO and they were lucky to escape unharmed. A leak of CO was discovered and had it not been for the CO alarm signalling the danger, the outcome could have been disastrous.
Make sure a portable CO detector is on your list of university essentials.
For more information please call 0800 612 6537