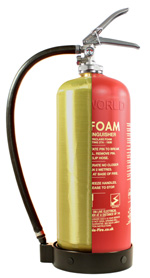 Most people would not consider their fire extinguishers as a candidate for recycling, but Safelincs are the leading retailer of a product that breaks the mould in more ways than one. This year's Recycle Awareness Week takes place between the 15th and 21st of June, and there is finally a fire safety product available that will combine your commitment to recycling and the environment with good business sense.
Companies across the UK are striving to reduce their carbon footprint, and introduce innovative, money saving products wherever possible. Safelincs can offer the perfect product to meet all your needs.
Britannia's P50 service-free fire extinguishers are manufactured in an innovative way. Like conventional extinguishers they are kitemarked and CE marked, but the way they are manufactured and assembled offers several major benefits over conventional units.
Instead of using a standard metallic construction, they are made from a blow-moulded inner plastic container for the fire fighting chemicals, cocooned by a super-strong aramid weave (the material used in bullet proof vests). On the outside a fire retardant polyethylene sleeve protects the extinguisher from cuts and UV light. The unit is finished with a corrosion-proof brass head assembly and stainless steel handle. All components can easily be separated and completely recycled.
As the P50 extinguishers cannot corrode, the extinguishing chemical manufacturers and Britannia guarantee the chemicals for ten years. Due to this, no refill is required after five years, saving chemicals, travel miles for engineers and substantial costs. P50 extinguishers are also not serviced by external engineers, creating huge cost savings. Instead, they are visually inspected by the owner or their staff once a year. After ten years the extinguishers can be factory-refurbished to protect your business for a further ten years.
Recycling and fire safety have rarely gone hand in hand. The service-free extinguisher made from fully reusable materials bucks this trend, and offers an environmentally responsible extinguisher for companies. The P50 extinguisher components are recyclable and corrosion-proof, making the P50 a suitable extinguisher even in challenging environments.
A simple and free training session provided at the time of installation by a BAFE-registered Safelincs extinguisher engineer passes on all of the knowledge necessary to inspect your extinguishers in-house. We will issue you with a training certificate and of course your full extinguisher certification to declare your site covered in accordance to British Standards requirements.
As well as being environmentally friendly and cost saving, Service-Free extinguishers installed by Safelincs are also supplied with a ten year warranty and a free-after-a-fire-replacement scheme, meaning you are guaranteed to remain protected.
Safelincs offer a free site survey to companies looking to upgrade their current extinguishers to service-free units. Make the change during Recycle Awareness Week – for further information contact our specialist team via servicing@safelincs.co.uk, or on 0800 612 6537.