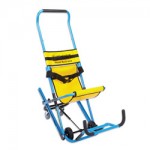 Do you fully understand your responsibilities when it comes to the provision of evacuation devices? If the answer is no, Safelincs can offer you guidance, explaining the legislation linked to evacuation devices, and highlighting the products available to help you meet your legal responsibilities.
To quote from the official government document- Fire safety risk assessment – Supplementary guide: Means of Escape for Disabled People:
"Where an employer or a service provider does not make provision for the safe evacuation of disabled people from its premises, this may be viewed as discrimination. It may also constitute a failure to comply with the requirements of the Regulatory Reform (Fire Safety) Order 2005."
Are you confident you have covered every eventuality when it comes to your evacuation plan? Evacuation planning must account for all possible scenarios. Failure to identify and eliminate any weaknesses in your plan is likely to be judged as a criminal offence if a fire were to trap a person that would have escaped if appropriate devices had been provided.
To learn more about your responsibilities as a business owner or manager, make sure you read our comprehensive guide which distils everything you need to know into a single article.
Safelincs are committed to raising awareness of potential evacuation issues, and are on hand if you have any further questions regarding evacuation devices. We are also currently offering a substantial discount on our bestselling evacuation device to support this campaign.
If you would like to take advantage of our special offers on leading products, or require further information about any of our products, feel free to contact us via support@safelincs.co.uk, or on 0800 612 6537.