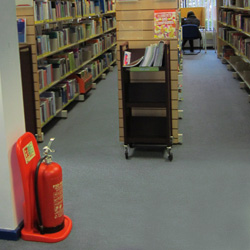 When Ian Kavanagh, estates manager at London's Harrow College, was leafing through his copy of FM Magazine, a Safelincs advert for the P50 range of extinguishers caught his eye. It was particularly pertinent since he had just had the annual maintenance carried out on both the campuses the college operates.
He was aware that, following on from the maintenance, a considerable amount of remedial work was required which would include replacing a significant number of the appliances.
The P50s attracted his attention because they have been developed so that they only require an annual check by a member of staff; they do not require servicing by an extinguisher engineer or a discharge test over their entire 10-year lifespan. After 10 years the extinguishers can be refurbished for a further 10-year service-free life.
Since a considerable amount of his budget goes on fire extinguisher maintenance, Kavanagh could see that the P50s had the potential to save money in the future. He contacted Safelincs who arranged to visit and demonstrate the extinguisher. It was explained that the P50's construction, utilising Aramid fibres (a class of heat-resistant and strong synthetic fibers used in aerospace, military applications and ballistic-rated body armour fabric), is corrosion-proof. This removes the necessity for an annual visit from an engineer, as is the case with standard appliances.
Safelincs then carried out an in-depth site survey to identify which standard extinguishers could remain in service and the number of P50s that would be needed to be installed.
"I was very impressed with the P50s and the potential savings they offered," commented Kavanagh. "Safelincs provided me with clear, honest information and I was happy to place an order."
Engineers from Safelincs moved existing usable extinguishers across the sites, in accordance with Harrow College's wishes, and fulfilled requirements to stagger the replacement of the extinguishers. In all, 92 P50s have been supplied, and a full location sheet of extinguishers and marked up floor plans provided by Safelincs. This will ensure that Harrow College's internal security team, trained to inspect the P50s, can print out a copy and ensure that all extinguishers are checked annually.
The standard extinguishers that are still in service are maintained by Safelincs' BAFE approved service engineers in accordance to BS5306. They will advise the college when they need to be exchanged for P50s.
The total cost to swap over to the P50 extinguishers was not much greater than the quotation received from the previous servicing company, and in the coming years major savings will be made through a vast reduction in maintenance costs.