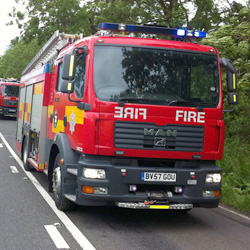 In the wake of government cutbacks, up to seven Merseyside fire stations have been threatened with closure. The closure plan – which will lead to 100 firefighter job losses as retiring staff are not replaced – is expected to save £3.4m in 2015/16.
Many other areas are facing similar cuts as austerity measures continue to bite. At the beginning of the year Britain's oldest fire station, in Clerkenwell, closed along with nine others in the London area. London Fire Brigade is cutting 552 firefighter jobs and reducing the number of fire engines by 14, saving £45m over two years.
London Fire Brigade said the cuts will not affect the service it provides because the number of fires has fallen by 50% over the last 10 years.
Improvements in passive fire protection such as fire resistant soft furnishing and the reduction of the number of smokers as well as changing diets with less deep fat fryers and fat being used have played important roles in this improvement.
The widespread installation of smoke alarms and the early warning these give have also had a major impact. Smoke alarm ownership increased rapidly from 8% in 1988 to 70% in 1994 in England, and has continued to rise in recent years to 88% in 2011. However, whilst only 12 per cent of dwellings report not having a working smoke alarm in England, more than one third of fires occurred where no alarm was installed. There were also numerous cases where fatalities have occurred despite smoke alarms being present, however, they either weren't working or the batteries had been removed.
This emphasises how important it is to regularly check that smoke alarms are actually working by pressing their test button. Safelincs provides a free service to regularly remind householders via email to check their smoke alarms are working.
Having a working smoke alarm is, however, only the first step. Without having the ability to extinguish a small fire, even an early detection will not stop a building burning down. Portable fire extinguishers can be used to tackle small fires at an early stage, as long as the right medium is used.
In domestic situations Safelincs recommends the innovative water mist extinguisher which works by creating a very fine 'dry' mist which can be used on just about every type of household fire including electrical fires – with absolutely no chemical residue.
The authorities are adamant that the fire service cuts will not affect response times but the cutbacks will have acted as a wake-up call to many to enhance their domestic precautions.