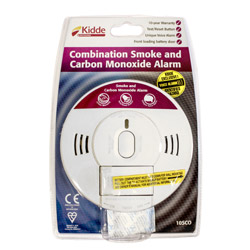 Kidde Safety, one of the leading manufacturers of smoke and carbon monoxide detectors, has recently released the UK's first combined optical smoke alarm and carbon monoxide detector. The new alarm, which is powered by a single 9V battery instead of the usual 3 x AA cells, carries a 10 year warranty and features an 'end-of-life' warning to alert the user that the alarm has reached the end of its operating life.
Kidde have included several simple but clever features with the 10DS, such as a front mounted battery compartment which allows the battery to be replaced without removing the alarm and dual voice warnings of either 'FIRE! FIRE!' or 'WARNING! CARBON MONOXIDE' depending on the danger detected.
The Kidde 10DS is also the first combined unit to be kitemarked for both the optical sensor and carbon monoxide sensor separately. Add in the test/reset/hush feature and the peak level memory function and you end up with a great all round alarm suitable for use in homes, holiday chalets, caravans and even boats, saving space and potentially lives.