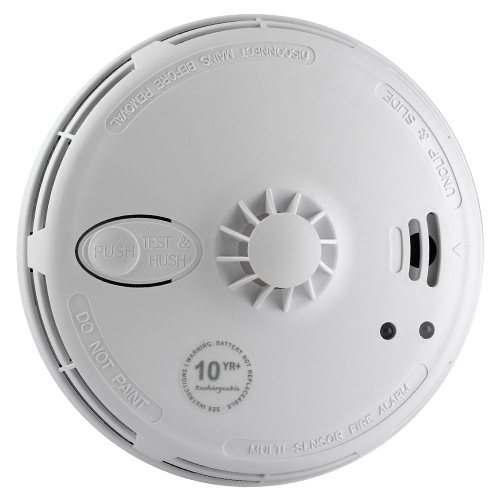 Unsure which smoke alarm to install? Worried about false alarms?  Then the Ei2110 multi-sensor alarm from Ei Electronics could be the solution you're looking for!
The Ei2110 is one of the first domestic alarms to combine both optical smoke and heat sensing elements.  Working together to intelligently monitor any signs of fire, this dual sensing technology allows the Ei2110 multi-sensor alarm to identify different types of fire.  Originating from upholstery or over-heated wiring some fires slowly smoulder and produce thick smoke, whereas paper or clothing fires can be fast flaming, producing little smoke but a lot of heat.  This wider fire detection envelope means that the Ei2110 will provide the best response, earlier warning of fire and reduce the risk of false alarms.  Making the smoke alarm selection easier for the user, the Ei2110 multi-sensor has the flexibility to be used in any room except a kitchen.  For kitchen applications, please use the Ei164RC single sensor heat alarm.
Supplied with an "easi-fit" base as standard, the Ei2110 multi-sensor alarm is mains powered with a re-chargeable back-up battery power supply.  Don't be put off with the need for an electrician!  The "easi-fit" base has been designed for easy installation, allowing the electrician to wire to the nearest lighting circuit.  Once fitted, the Ei2110 multi-sensor  head simply slides onto the base, ready for detection.  The Ei2110 is fitted with a built-in lithium battery back up that lasts the full 10 year life of the alarm.  This mains powered design with sealed lithium back-up battery not only saves on the cost and effort to replace batteries, but also stops alarm tampering and the battery being removed for use in other devices; a problem often faced by landlords with rented properties.  The Ei2110 multi-sensor alarm conforms to BS5839-6 Grade D, allowing the unit to also be specified for one or two storey houses of multiple occupancy (HMO).
To achieve the best possible coverage for detection, smoke alarms should be interlinked throughout the property.  As standard, multiple Ei2110 alarms can be linked using 3 core and earth cable available from the electrician.  The connection of alarms gives occupants the best possible warning of fire, saving valuable time in the event of an emergency.  If you're concerned by the thought of lifting carpets, floorboards and running trunking, the Ei2110 is available with radioLINK capability.  The radio interlinked Ei2110 comprises of the multi-sensor alarm head and an Ei168RC radio frequency base.  To maintain its Grade D status, the radio interlinked Ei2110 remains mains powered, but the interconnection is achieved wireless through radio frequency signal.
For more help and guidance on domestic alarms and accessories from Ei Electronics, please visit our dedicated website packed full with useful information.