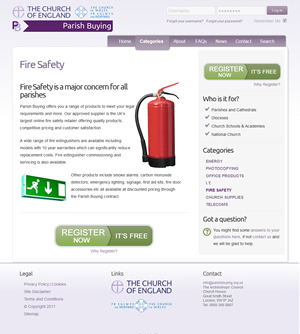 Safelincs are the contracted fire safety and H&S provider of the Church of England and the Church in Wales through their collaborative buying platform ParishBuying. We provide all fire safety products and services required in Churches, church schools, parishes, church buildings and offices as well as general H&S products such as first aid, PPE and winter safety products. Generous discounts for all Church organisations have been negotiated on top of the already competitive Safelincs internet prices.
The Church of England and the Church in Wales recently asked all their members about feedback about their service providers and Safelincs came out with the highest possible rating. Customers commented that Safelincs are 'extremely helpful', satisfied their needs entirely and that the service was 'excellent'.
We are of course very proud about this feedback which has strengthened our philosophy of providing a personal service and best support on a nationwide scale.
The findings of the survey match the findings of our independent third-party ratingprovider, Trustpilot, which confirms our 'excellent' rating.