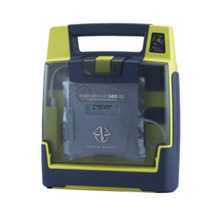 Safelincs has won a tender to install a defibrillator in each of a leading charity's nine UK offices.
A defibrillator is a machine that delivers an electric shock to the heart when someone is having a cardiac arrest. These machines are also known as  AEDs (Automated External Defibrillators).
Acting quickly when someone is in cardiac arrest and fighting for their life is crucially important.  Around 60,000 out-of-hospital cardiac arrests occur in the UK every year.
"There are no laws in force in the UK requiring employers to provide defibrillators for their workforce, but we are seeing an increasing interest in them from organisations," said Stuart Baxter, Business Development Manager at Safelincs.
The Institution of Occupational Safety and Health, the British Heart Foundation and Resuscitation Council UK all recommend the deployment of defibrillators in the workplace.